"In the beginning was the Word, and the Word was with God, and the Word was God." John 1:1
A MESSAGE FROM THE CHIEF APOSTLE
I BELIEVE......
THE CREED OF THE NEW APOSTOLIC CHURCH
Welcome to the New Apostolic Church
The New Apostolic Church is a Christian church that is established in most countries around the world. The Western Pacific region is one of the most culturally diverse regions globally. Congregations of the New Apostolic Church have a supportive presence in most of the countries in this region. All people are warmly invited to worship God, experience the love of Jesus and the activity of the Holy Spirit in today's world. We invite you to take the time to discover how being a New Apostolic Christian can benefit you.
WHAT IS A DIVINE SERVICE?
An opportunity to enjoy fellowship with our brothers and sisters in faith, and experience the love of God
WHAT ARE SACRAMENTS?
The New Apostolic Church recognises and celebrates the acts of Holy Communion, Holy Baptism and Holy Sealing
STRUCTURE & LEADERSHIP
The ministers of the New Apostolic Church are commissioned to conduct services and provide spiritual care for the members
BEING NEW APOSTOLIC
All who profess the New Apostolic beliefs and teaching can become a member
FESTIVE AND HOLY DAYS
There are many festive days on the New Apostolic calendar that are celebrated
THE WESTERN PACIFIC DISTRICT
The countries and areas that form the Western Pacific District of the New Apostolic Church
Our Mission & Vision
Vision
 A church in which people feel at home and – inspired by the Holy Spirit and their love for God – align their lives to the gospel of Jesus Christ and thus prepare themselves for His return and eternal life.
Mission
Reaching out to all people in order to teach them the gospel of Jesus Christ and to baptise them with water and the Holy Spirit. Providing soul care and cultivating a warm fellowship in which everyone shall experience the love of God and the joy of serving Him and others.
SERVING AND REIGNING IN CHRIST
Chief Apostle Schneider explains the motto in his address for 2023.
Stay up to date
Latest News & Events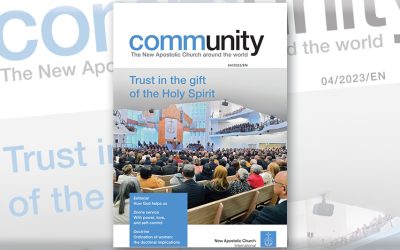 The Pentecost service in Cape Town, South Africa earlier this year is a feature of this edition of community. Several other Chief Apostle visits are highlighted, and the ordination of women in ministry is again discussed. A report of the recent District Apostles'...
read more
Register your details to receive the latest publications
and information updates.